Age is just a number- five active workshops to rediscover your passion in October/November
Don't let age get in the way. Discover a new talent or revisit past passions while attending five active workshops across the month of October/November. Dance, bend, stretch and move along with other like-minded individuals to find what makes you tick. All sessions are access friendly and suited to all levels and abilities.
Join us at the Cultura Healthy Living Centre  1.30-2.30 , bookings essential  ph: 5222 7275  $1 donation
25-41 Arunga Ave, Norlane.
3/10/22- Yoga chair based program with Fiona 
11/10/22- Add some colour and movement to your day and learn Bollywood dancing with Mario
19/10/22- Watson introduces you to the art of Taichi.
27/10/22- Shake your hips with Mariela and her Zumba dance.
4/11/22- Music to make you feel good with Lucy and her accordion.
White Night Geelong
White Night is returning to Geelong to light up the night with vibrant visual art, music, light projections and family fun. Experience the sparkle and spectacle on Saturday, 8 October 2022, 7:00 pm – 1:00 am. The theme for White Night 2022 is, "Everything on the land is reflected in the sky".
The extensive program will feature a collection of portraits that celebrate the diversity of Geelong's community produced by Cultura's Pako Festa. The images will be projected onto the Northern wall of the Jarvis/Brinton Forecourt at Deakin University during the White Night event.
First presented at the Reimagined Pako Festa in 2021, this work includes a colourful collection of community members in traditional dress, narrating their experiences of life, customs and family.
For more information about the event, please visit https://whitenight.com.au/geelong/.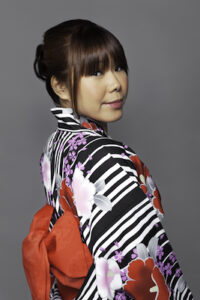 Picture credits: Chrissie Francis